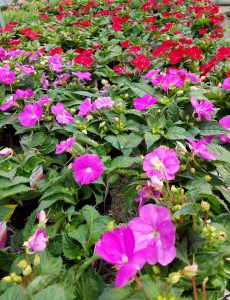 Standard impatiens are easy to grow and are generally smaller than New Guineas. They prefer shady areas and become carpeted mounds of color. They can become leggy over the summer, so it is good to pinch or scissor them back and they will flush back up again in a week or two.
Sunpatiens are a hybrid because they tolerate more sun than that of the standard variety. However, they still do not like full sun all day. They generally grow from cuttings and have larger leaves and larger blooms, up to 3 inches across.
Items listed below subject to stock availability.
Full Impatiens List
| Item-2023 | Variety | Container |
| --- | --- | --- |
| Impatiens | Imara XDR Orange | 3-Pack |
| Impatiens | Imara XDR Orange Star | 3-Pack |
| Impatiens | Imara XDR Pink | 3-Pack |
| Impatiens | Imara XDR Proformula Mix | 3-Pack |
| Impatiens | Imara XDR Purple | 3-Pack |
| Impatiens | Imara XDR Red | 3-Pack |
| Impatiens | Imara XDR Salmon Shades | 3-Pack |
| Impatiens | Imara XDR White | 3-Pack |
| Impatiens | SE Lipstick | 3-Pack |
| Impatiens | SE XP Blue Pearl | 3-Pack |
| Impatiens-Double | Fiesta Stardust Pink | 3.5 Org |
| Impatiens-Double | Glimmer Pink Hot | 3.5 Org |
| Impatiens-Double | Glimmer Red Dark | 3.5 Org |
| Impatiens-Double | Glimmer Salmon | 3.5 Org |
| Impatiens-Double | Glimmer White | 3.5 Org |
| Impatiens-New Guinea | Magnum Blue | 4.5R Blk |
| Impatiens-New Guinea | Magnum Bright Purple | 4.5R Blk |
| Impatiens-New Guinea | Magnum Clear Pink | 4.5R Blk |
| Impatiens-New Guinea | Magnum Lavender Splash | 4.5R Blk |
| Impatiens-New Guinea | Magnum Orange | 4.5R Blk |
| Impatiens-New Guinea | Magnum Red | 4.5R Blk |
| Impatiens-New Guinea | Magnum Salmon | 4.5R Blk |
| Impatiens-New Guinea | Magnum White 2020 | 4.5R Blk |
| Impatiens-New Guinea | Petticoat Blue Star | 4.5R Blk |
| Impatiens-New Guinea | Petticoat Cherry Star | 4.5R Blk |
| Impatiens-New Guinea | Petticoat Orange Swirl | 4.5R Blk |
| Impatiens-New Guinea | Petticoat Pink | 4.5R Blk |
| Impatiens-New Guinea | Petticoat Purple | 4.5R Blk |
| Impatiens-New Guinea | Petticoat Purple Star | 4.5R Blk |
| Impatiens-New Guinea | Petticoat Salmon Night | 4.5R Blk |
| Impatiens-New Guinea | Petticoat True Red | 4.5R Blk |
| Impatiens-Sun | Compact Deep Rose | 4.5R Blk |
| Impatiens-Sun | Compact Electric Orange | 4.5R Blk |
| Impatiens-Sun | Compact Hot Pink | 4.5R Blk |
| Impatiens-Sun | Compact Lilac | 4.5R Blk |
| Impatiens-Sun | Compact Orchid Blush | 4.5R Blk |
| Impatiens-Sun | Compact Pink Candy | 4.5R Blk |
| Impatiens-Sun | Compact Red | 4.5R Blk |
| Impatiens-Sun | Compact Rose Glow | 4.5R Blk |
| Impatiens-Sun | Compact Tropical Rose V/L | 4.5R Blk |
| Impatiens-Sun | Compact White Imprvd. | 4.5R Blk |
| Impatiens-Sun | Vigorous Corona | 4.5R Blk |
| Impatiens-Sun | Vigorous Lavender Splash | 4.5R Blk |
| Impatiens-Sun | Vigorous Red | 4.5R Blk |
| Impatiens-Sun | Vigorous Rose Pink | 4.5R Blk |
| Impatiens-Sun | Vigorous Tropical Orange V/L | 4.5R Blk |
| Impatiens-Sun | Vigorous White | 4.5R Blk |